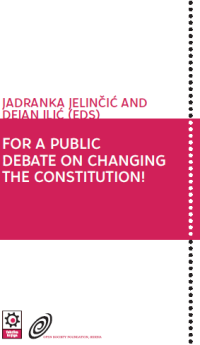 isbn: 978-86-7718-134-5
godina: 2013
broj strana: 116
cena: 780
[Naruči knjigu]
Jadranka Jelinčić and Dejan Ilić (eds)
FOR A PUBLIC DEBATE ON CHANGING THE CONSTITUTION!
Jadranka Jelinčić, THE CONSTITUTIONALIZING OF SERBIA
Vladimir Ilić, A NEW CONSTITUTION FOR SERBIA
Aleksandar Molnar, SOLVING THE PROBLEM OF DEMOCRATIC LEGITIMACY BY CHANGING THE CONSTITUTION OF SERBIA
Marijana Pajvančić, THE CONSTITUTIONAL ISSUE
Oliver Nikolić, THE CONSTITUTION OF SERBIA AND THE PROCESS OF EUROPEAN INTEGRATION
Ljubomir Madžar, THE LIMITED RANGE OF CONSTITUTIONAL ADJUSTMENTS
Dejan Ilić, DOES THE CONSTITUTION NEED TO BE CHANGED?
This book consists of two parts. The first part features seven short expert commentaries and the second part presents the findings of a survey-based research of attitudes of citizens towards the existing Constitution of Serbia. Chronologically, the research had preceded the writing of commentaries. The research framework has also in a way determined the structure of the commentaries. We have asked the commentators to critically assess one segment of our research, the segment which falls into the purview of his or her field of scholarly interest. However, we have attempted to accommodate our readers by presenting the expert commentaries first and the findings of the research second. By providing an appropriate context, these commentaries are supposed to help readers get through and understand the research findings. But this is not the sole function of the expert commentaries. It is our wish to make them only the first in a series of reactions to the research of citizens' attitudes towards the Constitution of Serbia. In other words, they are supposed to serve both as an incentive for debate on, in our view, one of the most vital issues for stabilization of the situation in Serbia – changing the existing Constitution.